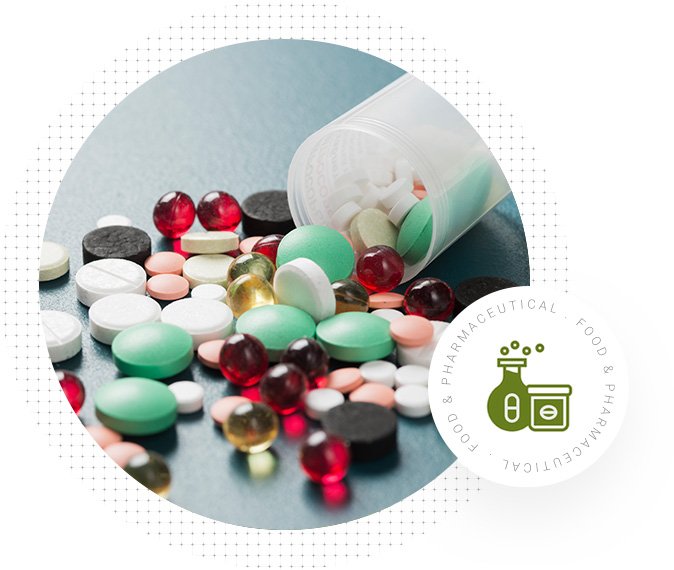 our solutions
Food & Pharmaceutical
The cost effective services of Unicatecno Company provides you the best solutions for food and Pharmaceutical industry.
Food & Pharmaceutical cost effective services of UNICATECNO Company
The food and Pharmaceutical industry includes two different industries that are under the regulations of domestin and internation health organizations. As an engineering solutions provider and packaging options Provider Company, we work in both of these sections to deliver our plans and ideas to these industries. We also offer procurement services for those companies that are active in this field.
Food Industry
The food industry is a complicated global collective of different businesses that supply food for most of the people in the world. Many activities are done in various parts of this industry, such as food processing, conversion, preparation, preservation, and packaging of various foods. Several sizes of activities are prevalent in this industry, from family-run businesses to large scale industrial manufacturies.
Unicatecno Company, as a provider of engineering and technical services for large-scale industries, offers its services to various food manufacturies across our targeted markets. We also offer creative packaging options for these industries. To accomplish this in a quality way, which is our concern, we use the most recent technologies. Our procurement services are also available for this industry.
Many businesses in the Food Industry are somehow very professional in marketing and packaging methods for different markets. Our company with realizing this talent in these businesses tries to improve its efforts with some cooperation procedures.
Pharmaceutical Industry
The pharmaceutical industry includes various medicine companies that are active in the research and production of different drugs. These chemical manufacturers try to make a balance between R&D outcomes and marketing efforts to meet consumer's needs. They research the impact of different ingredients on our health and make their best to provide proper options for various diseases and health problems. This industry includes scientific activities to identify effective material for various health problems.
Unicatecno Company provides engineering services for those companies that are active in the field of pharmaceuticals. We have a professional tendency toward providing engineering solutions for various industries activities including pharmaceuticals. We also provide other services such as packaging and procurement to this kind of company.
We bring different solutions for various procedures involved in this industry. From manufacturing to marketing and packaging, we have many things to offer for these companies.
Food and Pharmaceutical Industry services
As we mentioned earlier, the food and pharmaceutical industry include a complicated world wide system that supplies food and health for the most population of the world. Our company with many connections with various global suppliers of these products tries to bring its services to the participants of these industries. These services include different engineering and technical services, packaging solutions, and also procurement offers.
We can help our respective clients by bringing the most recent technologies to their factories and laboratories in these industries. We are also offering some of the most advanced options for packaging these products. With our deep experience in these activities, we believe that our offers are somehow very functional and practical, and could be used to improve these businesses products.
As we discussed in the previous sections, we take a responsible status toward our activity's consequences. In providing our solutions for various companies active in the field of food and pharmaceutical industries that have many things to do with public health, we try to offer some of the most improving options without any potential damage to consumers' health.
To achieve our goals in providing creative and affordable solutions, we always gain help from our research and development teams that are expert in health-related engineering processes. Our packaging options for these industries are with an eye to serious requirements of this field of activity.
Procurement Services for Food and Pharmaceutical Industry
Our procurement services are not limited to a certain industry, but we offer our services to various clients from different industries. As you might know, some industries are more sensitive than others, and the Food and Pharmaceutical Industry is among the most sensitive industries. Unicatecno Company tries to pay close attention to particular requirements of any project, and it tries to provide the safest possible options especially when human health could be affected.
In our cooperation with the companies active in the Food and Pharmaceutical Industry, we offer many advanced options from within these industries that are more beneficial than traditional ideas. As our slogan suggests "Think Smart, Act Efficient" we care about providing fresh ideas in any field, and that could only be done with a large network of cooperatives and partners across the world.